Welcome!
Welcome to the Knoxville Chapter of the Tennessee Ornithological Society! That's KTOS for short. We're Knoxville's premier bird club—we promote, educate, and protect birds and birdwatching in East Tennessee.

Browse the site to find our current newsletter and our backyard habitat blog, plus information about upcoming meetings, field trips, events, and other exciting news about what's happening with our group.
We welcome anyone to join us, even if you've never birded before. We have bird enthusiasts of all skill levels—from beginning to advanced birders—and would love to share our passion.
Morton Massey – KTOS Chapter President
Next Meeting
Our next meeting will be on December 2 at 7 pm.
Join us for a virtual via Zoom program and a look back at former KTOS member Jim Tanner's groundbreaking fieldwork of the South's ivory-billed woodpecker. Eighty years ago, while a PhD candidate at the Cornell Lab of Ornithology, Tanner was the first to dedicate three years of research into what was then known as a "vanishing species."  Local natural historian and author Stephen Lyn Bales will share historic photos and details from his UT Press book "Ghost Birds."
To join the meeting click here.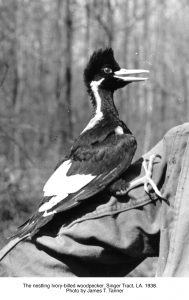 The Knoxville Chapter of the Tennessee Ornithological Society (KTOS) was organized in 1924 to promote the enjoyment, scientific study, and conservation of birds. Activities include monthly meetings, field trips each month, spring, fall, and Christmas bird counts, and projects like our Sharp's Ridge clean-up each spring and fall.
MEETINGS will be virtual Zoom meetings until further notice.